Shorelines // director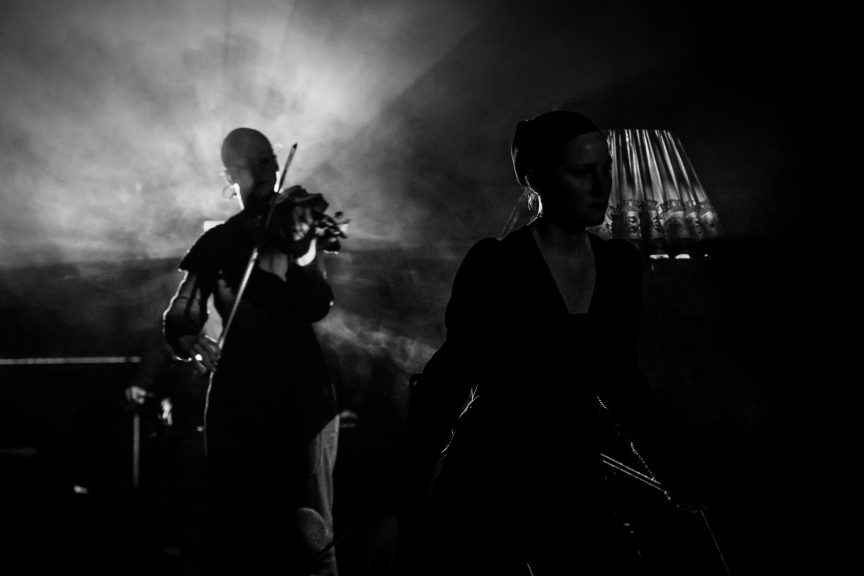 Inspired by the North Sea Flood of 1953—which left the Netherlands devastated and also took many lives in the UK and Belgium— Shorelines is a music-theatre work, composed by Oliver Coates, performed by the Ragazze Quartet and directed by Josh Armstrong. Acting as both a memorial to those who lost their lives and a meditation on water, this performance centres on the taped testimony of a woman who lost everything to the sea.
Following the moments after the flood, the performers drift through a dramatic musical landscape of flowing and shifting textures, combined with design and staging. As the members of the quartet perform against haunting recordings of themselves and collages of slowed strings and choral voices, we hear the sounds that were never heard, the calls that were unanswered and see shadows floating through the darkness.
Shorelines is a poignant reflection on the increasingly delicate relationship we have with the natural world.
A Cryptic / Ragzazze Quartet Co-Production. In partnership with deSingel (Belgium) and Grand Theatre Groningen (Netherlands). Commissioned and produced by Cryptic.
Supported by: Fast Forward – Fonds Podiumkunsten, Performing Arts Fund NL; Creative Scotland; PRS for Music Foundation; The Hinrichsen Foundation; deSingel & Grand Theatre Groningen.
The Ragazze Quartet is supported by: Fonds Podiumkunsten, Performing Arts Fund NL; Amsterdams Fonds voor de Kunst & Kersjes Fonds.
Shorelines was developed at Cove Park during a Cryptic Spring Residency 2016.
Photo: Nichon Glerum